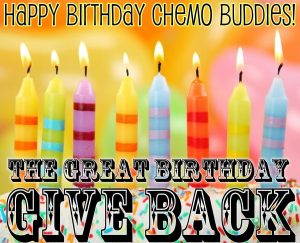 Eight years ago we birthed a dream that chemo could be less scary, and that no one should ever have to go through it alone. Founded right here in Evansville, we are the only nonprofit that serves in EVERY local treatment facility, EVERY single day. We support and spread hope to everyone in our community that has been affected by cancer.
Because we are local, we can only do what we do, with the love and support of friends like you! We are asking all of our friends to consider giving us a Birthday gift of some kind before the end of August. Maybe you can do a Jeans Day at work, or a bake sale, a garage sale – it all counts! How about it, can we count on you to help us help others?
Supporting Chemo Buddies is as simple as texting the word HOPEWARRIOR to 64600 to donate any amount.
Details are coming soon about HOPEFEST 2020 scheduled for April 4, 2020.
#HopeWarrior #SupportLocal #HappyBirthdayChemoBuddies #SoGreat2B8